En Linked Wine no paramos y seguimos trabajando para llevar vuestros productos lo más lejos posible. En esta ocasión estamos organizando una cata online con Master of Wine y Master Sommelier de todo el mundo, incluyendo a Beverage Manager de los hoteles más lujos y conocidos, Head sommelier de restaurantes Estrella Michelín, jefes de compras de grandes importadoras y casas de subastas reconocidas, prescriptores y jurados de los concursos más importantes del mundo y referentes del sector. Tenemos cerca de 40 participantes de todo el mundo desde EEUU, a Asia, Latinoamérica o Nueva Zelanda entre otros muchos.
Tus vinos y destilados viajarán al mundo entero de nuestra mano con una cata online realizada en dos sesiones el 27 de septiembre, una por la mañana y otra por la tarde para que puedan participar catadores de todo el mundo. Se realizará una cata digital monitorizando las respuestas, que posteriormente las bodegas participantes podrán recibir utilizando el nuevo software incorporado a nuestra plataforma desarrollado por la empresa catalana Upwine, de los que somos distribuidores autorizados y podéis contratar sus servicios a través de nuestra plataforma Linked Wine con un descuento especial.
Para la cata se enviará una selección de referencias en formato MSB-MiniSize Bottles, botellas de cristal con cierre hermético de 5cl, donde se reacondicionarán los vinos y destilados participantes siguiendo un escrupuloso proceso en ausencia de oxigeno que garantiza la calidad y la inalterabilidad de las muestras. Puedes informarte más sobre ellas en nuestro post MiniSize Bottles, la revolución en el envío de muestras y muy pronto en la web que estamos creando. Este formato nos permitirá que los participantes sólo nos envíen 3 o 4 botellas por referencia y nosotros se las haremos llegar a todos los catadores disminuyendo los costes de envío de manera considerable, accederás a cerca de 40 participantes y el coste total será como el de un par de envíos.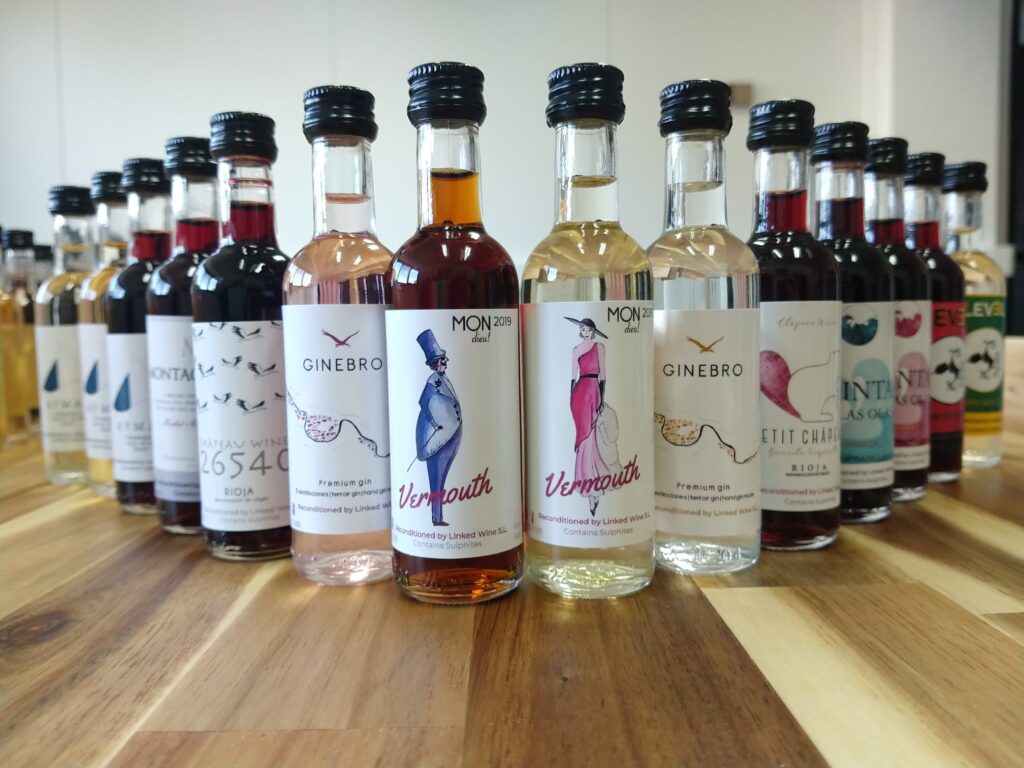 Para la cata con Master of Wine y Master Sommelier se enviará un total de 48 vinos a todos los participantes, de los que se seleccionarán 16 para cata en directo, través del software específico de cata online. Los productores presentarán su vino o destilado a través del sistema de videoconferencia a los catadores mientras se van recogiendo los datos y opiniones de los participantes en directo, datos como el color, la limpidez, los aromas, pero también se pueden incluir otro tipo de preguntas como aceptación en el mercado, packaging, etc. todo ello a través de nuestra plataforma y con un tiempo aproximado por referencia de 10 minutos. Unos días antes los productores podrán hacer pruebas para que el día de la cata tengan controlado el funcionamiento de la misma.
No podemos realizar una cata en directo de todos los vinos y destilados participantes por el amplio número de muestras pero sí se elaborará un dossier completo de todos los productos añadiendo los datos de contacto del responsable de ventas, la ficha de cata y los países en los que está disponible el producto. Se recibirá un listado detallado de los catadores participantes en la cata para las bodegas inscritas.
Para inscribirse en la cata hay dos opciones:
Productores suscritos a Linked Wine: La cata no tiene coste, sólo el reacondicionado de las botellas en miniatura y el envío de las muestras, es decir una o dos botellas de 5cl por envío.
Productores sin cuenta en Linked Wine. La inscripción será de 120€ por referencia inscrita más los gastos de procesado de muestras y el envío de las mismas.
Para conocer más detalles sobre el coste de la inscripción, reacondicionado y envío podéis contactadnos al email sales@linked.wine
Os recordamos que ahora mismo tenemos una promoción con el código ANIVERSARIO por la que al contratar cualquiera de nuestras suscripciones te damos el doble de eventos de los que contrates y ampliamos 3 meses tu suscripción. Benefíciate del descuento y no pagues nada por inscribir tus muestras a la cata con Master of Wine y master Sommelier.